Internal courses and training
Internship program by KI Career Service - Project presentations Spring 2022 call - Day 4
PhD student, Postdoc or early career researcher interested in an internship in an organization or company outside of academia? This week you can hear the different organizations present the projects they offer in the Spring 2022 call (internship between May-Dec 2022)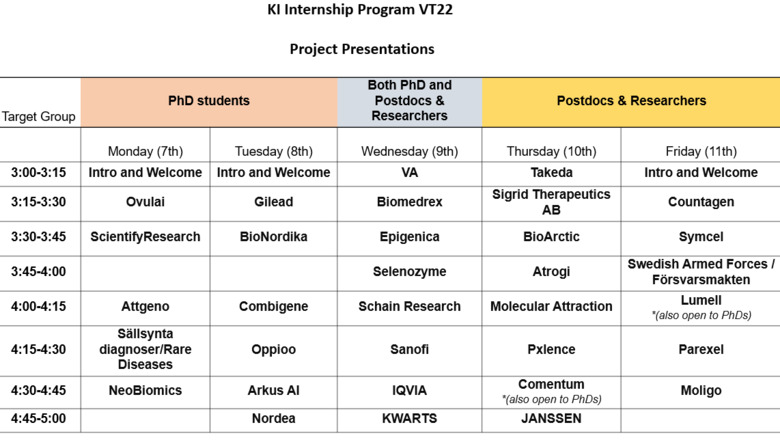 00 Photo: Ana Oliveira
In these webinar sessions representatives of the different organizations offering internships will take turns pitching their projects and answering all your internship related questions. Register for the event series once and attend as many presentations as you like throughout the week. 
The sessions will not be recorded.
The presentations are primarily targeted to PhD students, postdoc and early career researcher who are thinking of applying for the internships, but everyone is welcome to attend and just get some inspiration. The length of internship project are 1 month for PhD students and up to 3 months for Postdocs and Early career researchers.
Please come prepared and check the current projects on the applicable pages below
(including project descriptions, eligibility criteria and application process)
Postdoc and early career researcher internships
Presenting Schedule
Schedule may still be incomplete, but can start to plan your time if you can't join all the sessions.
Note that Mon-Wed are relevant for PhD students, Wed-Fri are relevant for postdocs and researchers.

 
Target group 
Postdocs and early career researchers at KI, interested in internships.
PhD students currently taking in the doctoral course Career Skills for Scientist, or who have taken it in the past.
Other KI staff interested to learn about the participating companies and organizations.

Organizers 
This event is organized by KI Career Service in collaboration with our internship partners.

Registration 
Please use your @ki.se email when signing up
Register here once to receive the join info, and then you can take part in any or all of the sessions.