Published: 27-09-2023 13:07 | Updated: 28-09-2023 12:18
Access to Bing Chat Enterprise
Bing Chat Enterprise is a new, AI-powered chat tool. The service is now available in a preview version included at no extra cost in KI's Microsoft 365 licence.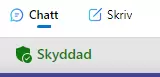 With Bing Chat Enterprise, you can use natural language to get help with various tasks, such as generating content, analysing data, summarising documents, writing code and much more.
What makes Bing Chat Enterprise different from the regular Bing Chat is that user and business data in Bing Chat Enterprise is protected and will not be leaked outside the organisation.
You can access Bing Chat Enterprise at Bing.com/chat and the Microsoft Edge sidebar when logged in with your KI account. A green "Protected" icon indicates that you are logged in to the correct version of the service.